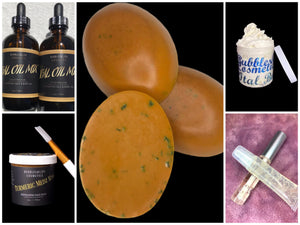 This Beautiful Bundle Is Called FI DI GYAL DEM. In This Bundle You Will Find The Favs That You'd Definitely Want To Gift HER. The Items Included In This Bundle Are: 1 Wata Lips Squeeze Tube Without Glitter, 1 Turmeric Medz Bar, 1 180ML Turmeric Medz Mask, 1 Ital Butta & 1 Ital Oil Mix.
Wata Lips - Hydrogenated Polyisobutene, Ethylene/Propylene/Styrene Copolymer, Butylene/Ethylene/Styrene Copolymer, Fragrance Oil, Vitamin E Oil, Grapeseed Oil, Fractionated Coconut Oil. This Gloss Is Piña Colada Scented.
Turmeric Medz Bar - Honey, Blended Natural Aloe Vera, Coconut Oil, Palm Oil, Safflower Oil, Titanium Dioxide, Turmeric Powder, Avocado Oil, Castor Oil, Grapeseed Oil, Vitamin E Oil
Turmeric Medz Mask - Turmeric, Honey, Cinnamon, & Essential Oils
Ital Butta - Shea Butter, Cocoa Butter, Lemon Essential Oil, Lavender Essential Oil, Jojoba Oil, Vitamin E Oil, Ital Butta Is Exotic Tuberose Fragranced.
Ital Oil Mix - 100% Natural Lemon Essential Oil, Vitamin E Oil, Rosmarinus Officinalis (Rosemary) Oil, Lavandula Angustifolia (Lavender) Oil, Citrus Aurantium (Neroli) Oil, Eucalyptus Globulus (Eucalyptus) Oil, Prunus Amygdalus Dulcis (Sweet Almond) Oil, Cocos Nucifera (Coconut) Oil, Olea Europaea (Olive) Oil