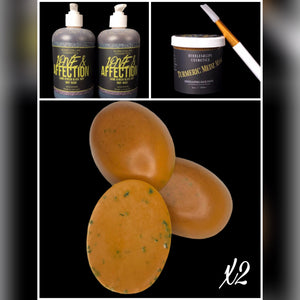 This Beautiful Bundle Is A Turmeric Bundle. A Bundle Filled With Many Benefits. The Items Included In This Bundle Are: 1 Love & Affection, 2 Turmeric Medz Bars & 180ML Turmeric Medz Mask.
Love & Affection - Cocoa Pod/Shea Husk Ash (Lye), Unrefined Grade A Shea Butter, Coconut Oil, Apricot Kernel Oil, Sweet Almond Oil, Kale, Water, Honey, Turmeric, Vegetable Glycerin, Vitamin E Oil, Fragrance, Jojoba Oil

Turmeric Medz Bar - Honey, Blended Natural Aloe Vera, Coconut Oil, Palm Oil, Safflower Oil, Titanium Dioxide, Turmeric Powder, Avocado Oil, Castor Oil, Grapeseed Oil, Vitamin E Oil

Turmeric Medz Mask - Turmeric, Honey, Cinnamon, & Essential Oils
Customer Reviews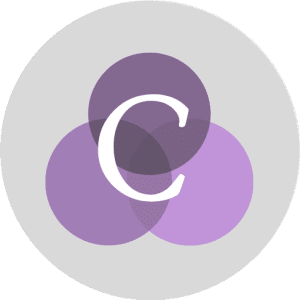 C
11/29/2022
Charisse

Canada
A true god send!
OKAY Y'ALL LET'S GET INTO THIS! Have you been suffering from hyperpigmentation, dark spots and acne scars? Then RUN, don't walk and grab your wallet to order the Turmeric medley!! Hands down the only thing I've found that actually works. Been using it consistently for over a year now, and it has transformed my skin. Plus I love that everything is vegan friendly and homemade. Can't wait for my next order!
03/10/2022
Spencer W.

Canada
Amazing - Acne Clearing !
Left my skin soft, and helped with scarring left by acne! 10/10
05/08/2021
Vinasha S.

Canada
Saved my skin!
Turmeric medley is now a staple in my skincare routine. Both products work wonders on dark spots and hyperpigmentation!
01/26/2021
Shequeria

Canada
GREAT PRODUCTS!!
I bought these products for help with my dark marks. I haven't used it very long but the quality of the products is amazing. The soap feels soft and smooth on the skin and isn't drying at all. The mask is a paste best used with an applicator and doesnt drip! my skin felt wonderful after use of both products. !! BUY THIS !!!!
01/15/2021
Angelina

Canada
Item Received on time
I purchased the turmeric soap for myself after purchasing gifts for family here as well. I am very pleased with my items received. It was lovely. It makes your face feel soft and very little lotion is needed after use. Especially during this cold dry winter season. I must say it also makes one feel 10 years younger. Thank you to the makers. I will definitely be buying again.